Hard Water
Do you have hard water spots or mineral build up?
Stop hard water spots and scaling with Culligan.
Hard water results from high levels of calcium and magnesium in water. It's a natural occurrence that affects over 85% of the water supply in North America. Hard water minerals stick to everything water touches, and do more than leave an unsightly residue - they can actually harm your home and cost you money! Locate hard water in Livingston NJ, Bridgewater NJ, and Red Bank NJ and the surrounding areas using the map below.
How hard is your water?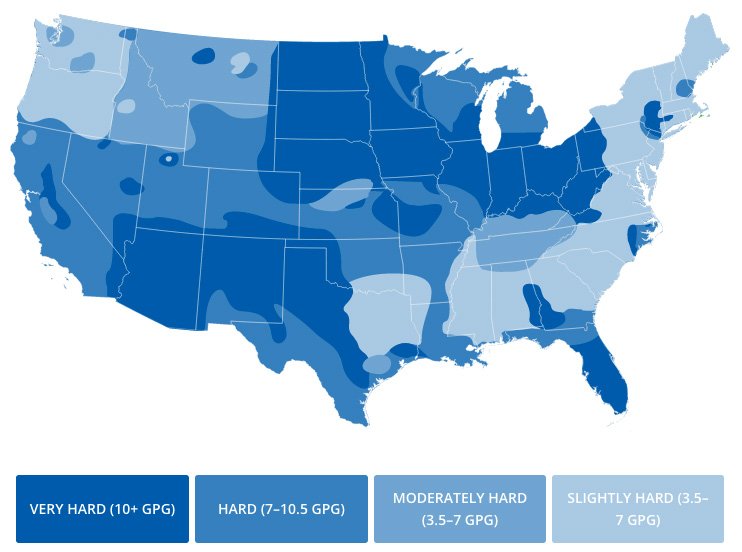 Common hard water problems include –
Spots on dishes, glassware and utensils
Mineral build-up on faucets, and in sinks and tubs
Excessive cleaning products and time needed for cleaning, due to mineral build-up
Higher electric and gas bills, due to mineral build-up on water heater heating coils
Shortened life spans for water using appliances due to mineral build-up on internal mechanisms
Increased soap and shampoo use, because hard water doesn't produce a good lather
Stiff, worn clothes from leftover mineral and soap residue
Dry, flaky skin from leftover mineral and soap residue
Brittle, lifeless hair from leftover mineral and soap residue
Hard water can harm your home or business in a variety of ways, and Culligan has the right water treatment equipment for every situation. Whether you need the innovative
Culligan® High-Efficiency (HE) Water Softener
to save up to 46% on salt, water and energy use or the affordable
Culligan® Medallist Water Softener
for everyday softening, your local Culligan Man™ has the perfect solution for you.
Latest
Blog Posts
High-quality water is an essential component to a healthy life and vibrant home. Make sure yours is up to par
First, get your home's water tested. Why should you get your home's water tested? Let's find out. Many contaminants are
WOW!!! I cannot express my appreciation and gratitude enough to everybody involved with Culligan water of new jersey. Everyone we had contact with was phenomenal. Mark in sales explained everything to us and made us comfortable with the process and the installation. The plumber they installed the unit was very professional, polite and incredibly neat and talented. May at the office has been so helpful, courteous and warm. Having a water softening system has helped our family's skin health and overall bathing experience. We also have a very fragile salt water reef tank with live corals and beautiful fish. The softer water has greatly improved the water quality and health of all of the animals in the tank. In a nutshell, the system is amazing and everyone involved has been wonderful! God bless you all and please stay healthy!

Jerald Friedman
- Culligan Customer