Culligan® Bottled Water & Salt Delivery
Save time and money with Culligan delivery services.
Bottled Water and Salt Delivery Solutions
There's never been a better time to enjoy the convenience of scheduled bottled water or softener salt deliveries from the Culligan® Water Experts. Skip the heavy lifting and scheduling headaches with simple click-or-call water and salt delivery from Culligan. Prescheduled deliveries save you the trouble of remembering to order and ensure you never run out of great-tasting Culligan® Bottled Water or softener salt.
Culligan® Bottled Water
Our bottled water is produced at local bottling plants under strictly-monitored standards set by the International Bottled Water Association. We use a reverse osmosis purification process that is able to reduce microscopic impurities and contaminants far more effectively than carbon filter pitchers and faucet filter attachments. Water bottle changes are a breeze with our patented Culligan Care Cap™, which makes our bottles essentially spill proof!
Benefits of Culligan® 5-Gallon Water Bottles:
High-quality, filtered drinking water wherever you need it
Empty bottles are picked-up and recycled every time you receive a new delivery
Custom delivery schedules to meet your needs
No lugging heavy bottles home form the store
Culligan® Solar Salt
Culligan Water Softener Salt makes it easy for you to transform hard water to soft. When used in your water softener, our water softener salt helps remove minerals from your hard water, including iron, calcium, magnesium, and even barium. These hard water minerals are removed when water passes through resin beads in the water softener tank. Salt or potassium chloride is used to periodically recharge the resin beads so that they can continue to remove these minerals. After our softener salt helps remove hard water minerals, you have soft, bright towels and clothes, shiny dishes and longer pipe and appliance life.
Made naturally with sun, wind and time®. Our solar salt crystals are 99.6% pure and a natural choice for treating your hard water. It's a great way to put nature to work softening your hard water. Culligan Solar Salt Crystals have a white, opaque appearance and are recommended for use in all water softeners.
Benefits of a Culligan® Solar Water Softener Salt Crystals:
Contain up to 99.6% pure solar salt
Made naturally with sun, wind and time®
Solar salt crystals are naturally white and opaque
Low insoluble content
Minimize accumulation tank residue
Solar salt is recommended for use in all water softeners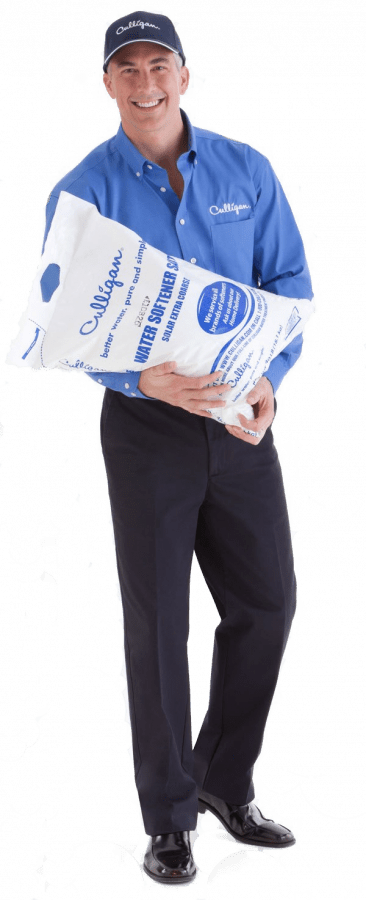 Culligan has a variety of bottled water and salt delivery plans, and will help find the perfect solution for your budget. Whether you choose monthly water delivery for your entire office building, or salt delivery to your home, your local Culligan Water expert has the perfect solution for you.